Chuyo Spring wins high acclaim for the heat-treetment and fine-blanking
tecnologies. We offer one-stop contracted manufacture of high-performance
parts with a forcus on these two technologies and combining a wide range of
machining technologies.




Chuyo Spring was the first company in Japan to introduce Fine-blanking adopting
the technology in 1972. Fine-blanking is a type of precision die cutting. It requires
less labor than ordinaly press, while making smooth cuts, enabling highly precise
dimensions to be obtained. Fine-blanking greatly reduces costs because it requires
no post-processing.



Chuyo Spring started business with
spring production andbuilt up an
unrivaled level of technology through
many years experience. We have
coverted this experitise into electronic
cntolol and produce the required
features to high degree of perfection.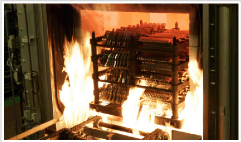 Our die precision guarantees qality of
fine-blanking press as well as stamping
press processing. At Chuyo Spring we
bring together our accumulated
technology with the lstest equipment to
perform every aspect of die production
in house from die and jig design to
fabrication.